Beach Clean, Safe Stay
Our Cleanliness Guarantee
The Ocean View Hotel is ranked among TripAdvisor's top 10 Santa Monica hotels in regards to service and cleanliness. With that said, we are taking the responsibility of safety for our staff and guests seriously at this time. We have adopted a wide range of guidelines and additional housekeeping measures to ensure confidence in our operations.
In order to protect all members of our community, we have enhanced our cleaning and sanitization protocols across the board, ensuring our practices closely follow CDC recommendations to stop the spread of COVID-19. Should you have any unanswered questions about our latest efforts, please feel free to contact the hotel at (310) 458-4888.
our procedures
Hight Touch Points
Objects like elevator buttons, door handles, and countertops are sanitized diligently and frequently.
Social Distancing
We have implemented floor markings within the hotel to designate the proper space for social distancing.
Take-Out and Delivery
Outside food delivery and take-out have been restricted to lobby delivery only.
Face Masks
Within the hotel, all guests, visitors, and team members are required to wear face masks.
Staff Safety
All team members on staff are taking daily temperature checks to ensure their health
Housekeeping
Housekeeping uses CDC recommended cleaners and disinfectants such as Peroxide Multi-Surface Cleaner and Disinfectant.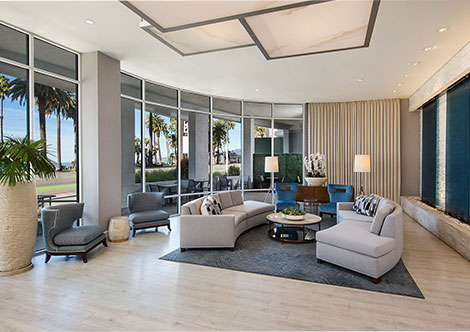 Other Protocols
All of our guest rooms are ventilated individually with independent HVAC, ensuring there is no shared air between rooms.
To limit contact, housekeeping will not enter your room during your stay unless service is requested.
We've added shoe disinfecting bathmats into our lobby.
Hand sanitizing stations have been added for both team members and hotel guests.
All hotel room keys are being sanitized with UV light before reuse.
All linens and terry cloths from our guest rooms are being washed at a high temperature consistent with CDC guidelines.